Looking for something special? Use the "Search" window top/right
Welcome to the website of Etiopia-Witten Assoc.
Etiopia-Witten is a registered charitable association from Witten town - Germany supporting Ethiopia
The peace process in Tigray is developing slowly. There are still severe humanitarian emergencies in large areas of the province. The medical infrastructure continues to suffer severe deficits.
Therefore, many people are still without food and medical care.

The first schools were opened after more than two years.
However, the vast majority of them are still destroyed or inhabited by refugees.

With your donations, we support the reconstruction of the medical infrastructure
and the schools in the countryside.
Donate
Etiopia-Witten e.V.
Sparkasse Witten
IBAN: DE70 4525 0035 0000 9010 90
The friends of Ethiopia can help
Etiopia-Witten Association Germany


09.04.2023

Tigray and German Cardiologist from Etiopia-Witten just published in European Heart Journal:
We need your help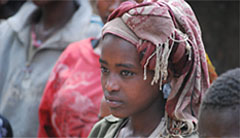 Every donation counts!
Yes, I would like to support the work of Etiopia-Witten Assoc.
Online donation via Betterplace.org is now possible