The COVID-19 Task Force for the Tigray (Northern Province of Ethiopia)
The COVID-19 Task Force for the Tigray (Northern Province of Ethiopia)
Our association is actively represented by the board member Ahmedin Idris in the work of the discussion platform of a task force that is committed to advising those responsible for COVID-19 in Ethiopia with a focus on Tigray and sending missing medical materials there funded by donations.
This task force consists of scientists, epidemiologists, clinicians and experienced doctors who are members of the Global Society of Tigrian Scholars (GSTS), a worldwide association of foreign Ethiopians. Also members are the Minister of Health of Tigray and doctors from the university clinic, Ayder Hospital of Mekelle University .
This platform communicates using email, the instant messaging service Whats App, and video conferencing once or twice a week.
There is a forceful commitment.
The COVID-19 epidemiology for Tigray was defined in detail and forms of prevention and algorithms for health policy decision-making were developed as guidelines.
Special protective measures for medical personnel were recommended and selected considering the local conditions and possibilities.
The Tigray authorities implemented all recommendations of the task force and informed the task force of the progress of the quarantine.
As has been internationally proven, the task force recommended maintaining distance, face masks, quarantine and isolation.
Our association has collected donations and made them available together with funds from the TASK Force for CORONA-19 for the procurement of test materials and personal protective materials for medical personnel.
More about our COVID-19 support in Tigray
The details:
Our association Etiopia-Witten has more than 10 years of experience with the difficult realities of maintaining and improving medical work at Ayder Hospital of Mekelle University, which is one of the largest and most modern hospitals in all of Ethiopia. We can and must now use this knowledge to bring the right form of help together with a newly founded international CORVID-19 aid group of exiled Tigrinians for Mekelle and Tigray.

Our experience helps to make the right choice of appropriate relief supplies (reusable face masks, glasses, coats and more), to raise money for their purchase and to choose a suitable organization that can make safe transport possible ( e.g. Tigray Development Association - TDI).

Our board member Ahmedin Idris has been involved in the work of these organizations through repeated video conferences for several weeks and his advice is highly valued for our many years of work in Mekelle. With these organizations, a targeted and appropriate investment of our aid funds is developed. The aim is to ensure the long-term supply of aid with reusable materials.

In addition to the Minister of Health of the Province of Tigray, Hagos Godefey, the clinical director of the Ayder Hospital (Dr. Amanuel Haile) is responsible for the medical care of the city of Mekelle and its surroundings. Other Ayder doctors are involved in the technical preparation for the corona pandemic (COVID-19). The form of our help will be coordinated with these people in advance so that it will be accepted and adapted on site.
As soon as these technical requirements are met, we will, adjusted to the donation funds, send the relief goods on the trip.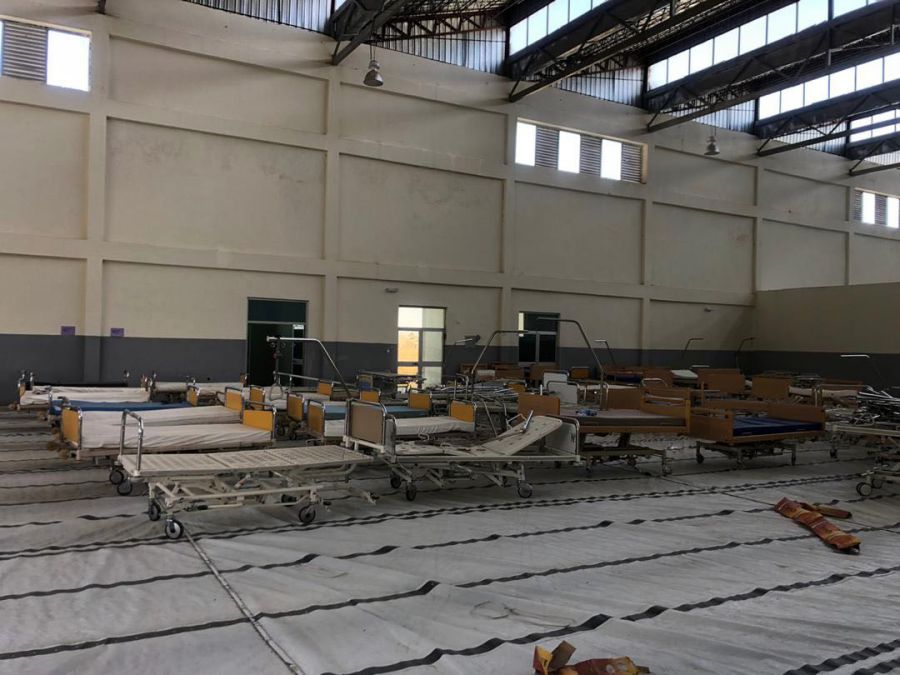 Large hospital-like halls have been set up as a reception facility for symptomatic COVID-19 patients near the airport in a newly built university campus that has not yet been occupied.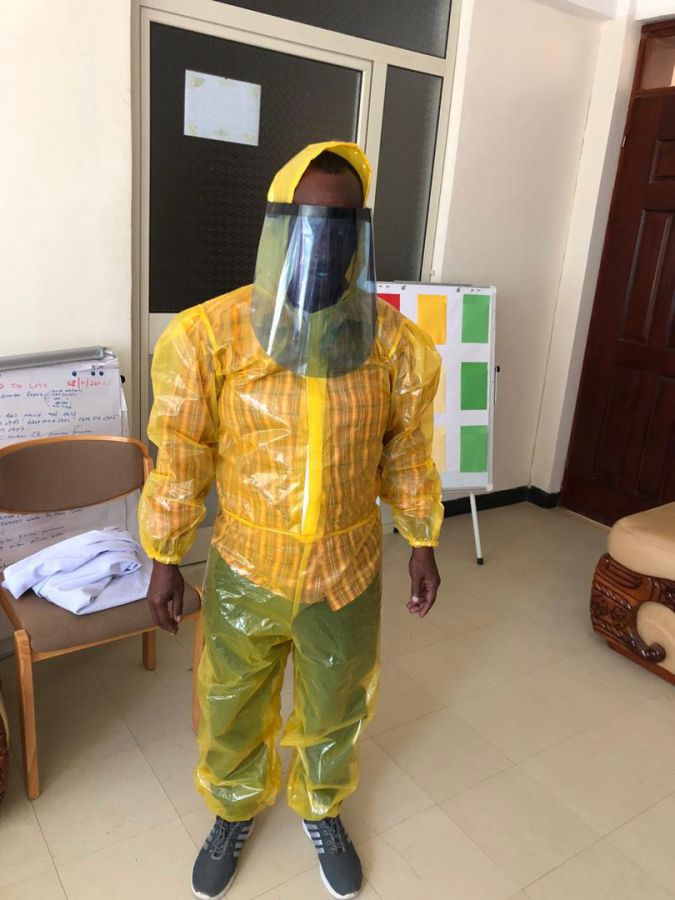 The first attempts with self-made protective clothing have been carried out (source Dr. Dr. Zekarias, Ayder Hospital Hygiene Officer).

A device for testing for COVID-19 has just been put into operation in Mekelle and the first tests, all of which have been negative, have been carried out. Test materials are now lacking to be able to test more extensively.

Another problem area is the extraction of oxygen for patient treatment. There is a lack of oxygen masks. The device for extracting oxygen from the air (oxygen concentrator) in the Ayder requires maintenance and has a capacity of only 30%. So far, there is no funding for new filters. To what extent the local industry can supply oxygen in cylinders in sufficient numbers is open.

We will continue to report.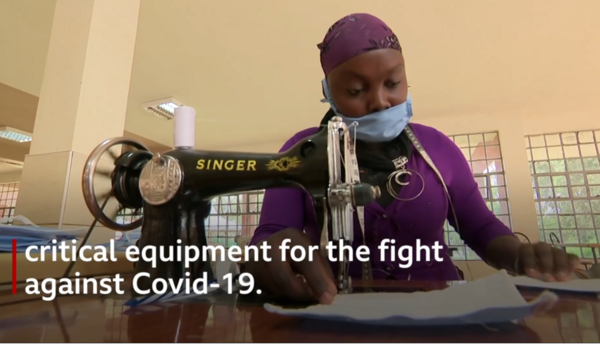 Instructions for sewing Personal Protection Equipment - in COVID-19 pandemy from the Internet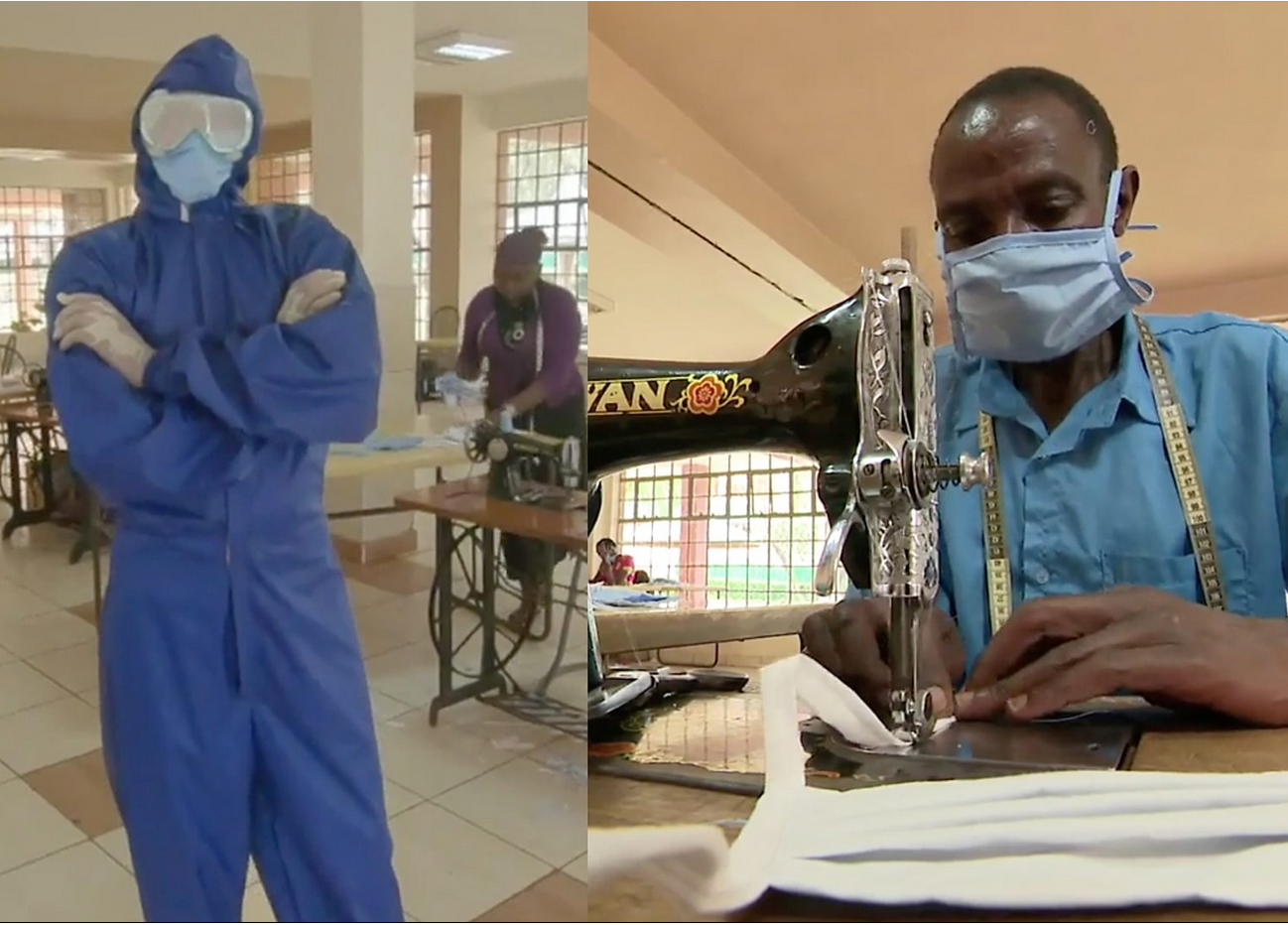 Here is a selection of instructions from the Internet how to sew protective gowns from fabric or if available plastic materials.
This including printable sewing patterns. These type of protection garment is accepted from the USA CDC (see at the end of this page)
How to sew a surgical gown from Nicole Herrick
https://www.youtube.com/watch?v=DoAheilcP3g
Download the free printable pattern here:
This can be printed on any size paper by using the TILE PAGES feature. The free pattern also has measurements so you can hand draw the pattern if you don't have access to a printer.
How to sew a Medical Gown from "Professor Pincushion"
https://www.youtube.com/watch?v=u62A-5tH1AE
Download the Free patterns for sewing:
https://mccall.com/free-digital-sewin...
How to sew different types of Medical Gowns from Fashion Girls for Humanity Website:
https://www.fashiongirlsforhumanity.org/collections/covid19/products/metric-medical-isolation-gown-pattern-pattern-only
Here you can directly download the free (Metric) Medical Isolation Gown Pattern and technical package
SELF FABRIC (114 CM FABRIC WIDTH) : 3.3 MT
SELF FABRIC (152 CM FABRIC WIDTH) : 2.6 MT
Some tips:
Longer sleeves (7.5 cm longer), alternative sleeve design
Belt placement location, 44 cm from neck drop on front panel
Also I recommend the use of twill tape for the back closure. Twill tape can be also used to substitute self-belt.
If you do not have elastic for the wrists, you may use ribbon that could be tied or ribbed knit cuff material. Use elastic hair ties or use rib knit from old sweatshirt, socks or tee shirt.
Reusable (i.e., washable) gowns are typically made of polyester or polyester-cotton fabrics. Gowns made of these fabrics can be safely laundered according to routine procedures and reused.
In the video they used this water repellent fabric Nylon Ripstop.
US CDC Information
Content source: National Center for Immunization and Respiratory Diseases (NCIRD), Division of Viral Diseases
https://www.cdc.gov/coronavirus/2019-ncov/hcp/ppe-strategy/isolation-gowns.html
When No Gowns Are Available
consider using gown alternatives that have not been evaluated as effective.
However, none of these options can be considered PPE, since their capability to protect HCP is unknown. Preferable features include long sleeves and closures (snaps, buttons) that can be fastened and secured.
Disposable laboratory coats
Reusable (washable) patient gowns
Reusable (washable) laboratory coats
Disposable aprons
Combinations of clothing: Combinations of pieces of clothing can be considered for activities that may involve body fluids and when there are no gowns available:

Long sleeve aprons in combination with long sleeve patient gowns or laboratory coats
Open back gowns with long sleeve patient gowns or laboratory coats
Sleeve covers in combination with aprons and long sleeve patient gowns or laboratory coats
Reusable patient gowns and lab coats can be safely laundered according to routine procedures.
Laundry operations and personnel may need to be augmented to facilitate additional washing loads and cycles
Systems are established to routinely inspect, maintain (e.g., mend a small hole in a gown, replace missing fastening ties) and replace reusable gowns when needed (e.g., when they are thin or rippel)